'Male leaders' self-portraits (2009)
Six 14X11 in archival inkjet prints
Looking at Portraits of Power by Platon from The New Yorker, I noticed that out of 50 world leaders, only four are women. This inspired me, as a female, to create a series of self-portraits, dressed up as prominent male leaders from the past and present around the world. My initial approach was to use wigs and make-up, but due to limited resources, I completed the series through digital imaging.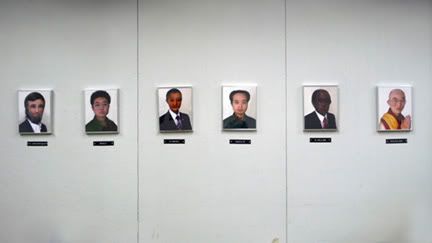 Mao Z. D.
R. Mugabe
Dalai Lama
B. Obama
Kim J. L.
'M. Ahmadinejad' is available for viewing upon request.